Lemonade Insurance
Forget Everything You Know About Insurance – It's Time for Some Lemonade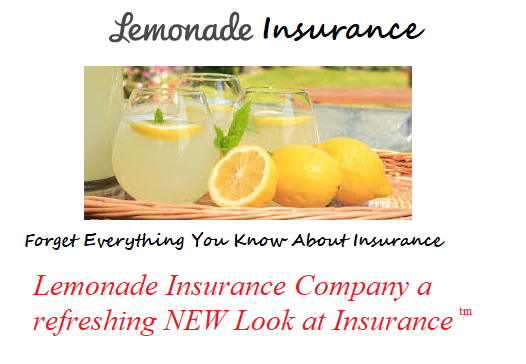 Lemonade Insurance, the first U.S.-based startup to propose a sharing economy alternative to traditional home insurance.
Lemonade Taking on a 'Necessary Evil' – A NEW KIND OF INSURANCE


When you think cutting-edge, insurance might not be the first thing that pops in your head. But thanks to new and hot technology with Lemonade Insurance, insurance is getting — dare I say – kind of cool.
Great FAQs on Their Official Website    CLICK HERE to answer all of your questions.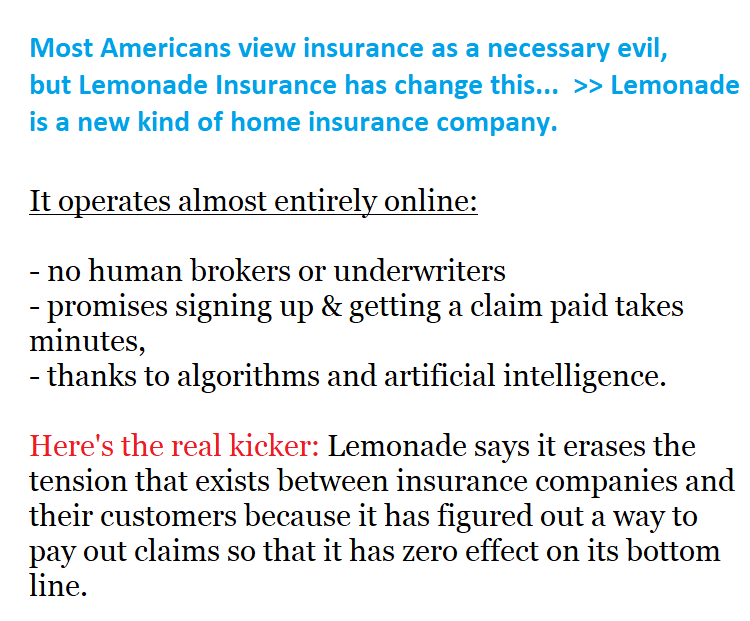 Lemonade Insurance Reviews
There has been

no complaints

against the Lemonade Insurance Company or reported by the (NAIC) National Association of Insurance Commissioners.
Lemonade's financial strength is

rated highly

and growing fast.

Available in New York, Illinois and California – Available to other States by year-end 2017.
Sign-Up to Get Best Quotes for your State

ABOUT LEMONADE INSURANCE



Who is this Lemonade Insurance Company?
This unique insurance company, called Lemonade because of the sweet deals and features they offer. This company is completely revolutionizing the insurance industries, replacing brokers and paperwork and using technology and artificial intelligence. Lemonade Insurance is transforming the entire insurance industry model.
What does Lemonade Insurance Offer?
This insurance company offers homeowners, renters and condo owners insurance.
Why Choose Lemonade Insurance?
Its transparent, its fast, affordable and hassle-free. Its one flat fee and pay claims quickly. Lemonade Insurance has no agents so no high cost. With Lemonade they make insurance relevant again.
How does the Lemonade Insurance Company Works?
Lemonade was design very differently then traditional insurance companies, such as Geico or State Farm. The company replace agents and/or brokers with computer bots…gives you quick and paperless quotes, claims and returns.
Its a peer-to-peer insurance company. they take a fixed fee out of your monthly payments, pay reinsurance, and use the rest for paying out claims.
You pick a charity when buying coverage, and the money is pooled with payments from other customers. After Lemonade pays for expenses and claims, it sends any unused money from the pool to the nonprofits. Its really becoming the sought out social goods rather the dreaded inevitable insurance policies.
Great FAQs on Their Official Website – CLICK HERE to answer all of your questions.
Here are some recent news headlines:
Some cool insurance products are finally on the horizon – Market Watch
Lemonade is revolutionizing risk management – Asean
Startup P2P Insurer Lemonade Reveals How First 48 Hours of Business Went – Insurance Journal
Insurance Startup Lemonade pays claims quickly, doesn't profit from denials – Repairer Driven News
Insurance Startups Push Peer-To-Peer, Online Policy Tech – Law360
Peer-to-Peer Insurance Adds a Human Touch Through Mobile Technology – Insights
How Lemonade's founders raised a massive seed round just by talking – Business Insider
Click Here To Get More Information On The Lemonade Insurance Program
Financial strength
Financial stability of the Lemonade Insurance Company is rated A, exceptional, the third highest rating, by the financial analysis firm Demotech. Financial stability or strength ratings indicate an insurer's ability to pay claims.
Quote by William Latza is chief compliance officer and general counsel at Lemonade:
"I'm convinced Lemonade will bring insurance to 21st century consumers who have learned to shun insurance and insurers. Lemonade will make insurance relevant to the times and will create an experience that is not only transparent and easy, but carries with it social good."
Disclaimer: ShopSolutions strives to keep its information accurate and up to date. When evaluating offers, please review the financial institution's Terms and Conditions. Pre-qualified offers are not binding. If you find discrepancies with your credit score or information from your credit report, please contact TransUnion® directly.
Advertiser Disclosure: So how do we make money? We receive compensation from our partners when someone applies or gets approved for a financial product through our site.
google-site-verification:
Thanks for visiting my site Lemonade Insurance.