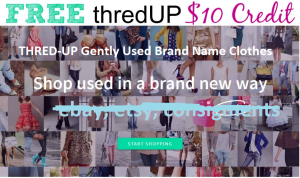 Click here. I just found this cool site on buying new/used clothes just like Goodwill or consignment shop. If you don't like used clothes just search for new or new with tags.
Thred-Up is a site that sells like-new clothes and its up to 90% off retail.
There are great high-end and quality clothes people are selling. And if you have clothes to sell you can do this too and its free shipping to get your clothes to them.
So much better then consignment shops. I really don't like consignment shops because they take so long to get an appointment and they really don't give you much for your clothes. Click here for Official Website – Thredup
ThredUP is really one of my favorite places to buy an inexpensive brand name clothes.  ThredUP is a great site that sells gently used clothing and a perfect way to grab brand names for less!   An online consignment shop, this website has top brands including J.Crew. American Eagle, LOFT, Gap, Banana Republic, and more.