Thrive Market Reviews – Pros & Cons
Save Now Extra 25% off + free shipping on your first order!

"Join the movement to make healthy living easy and affordable for everyone."
Hello Everyone,
Have you ever heard of Thrive Market? I haven't until I saw these two guys on a talk show talking about their brand new concept…selling wholesome, organic products at WHOLESALE prices and get this they DELIVER!!
Since I have a website on living healthy and organically I knew I had to research this company. And what I found out is the company is a fast and growing one….not public yet but not only am I buying their products now, but I am sure to buy their stocks once they do become public.
If you want to learn more about this thriving company…CLICK HERE.
They say it's a cross from Wholefoods and Costco. Wow what a great idea! Share & Pass it on…your friends will love it.
Save Now Extra 25% off + free shipping on your first order!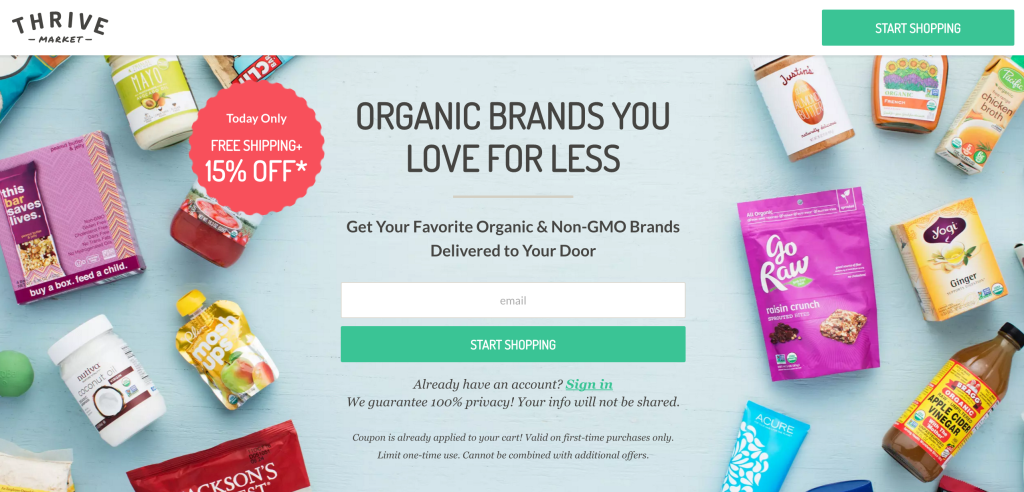 About Thrive Market
Thrive Market is an online shopping club on focused on healthy living. Thrive Market members can buy the best-selling healthy foods and natural, wholesome products in everyday sizes, always 25-50% retail prices, delivered right to their door. And for every paid membership, Thrive Market donates a free membership to a family in need.
Thrive Market Reviews
Types of Items Thrive Market Sales: Food, Beauty, Home, Baby, Pet, Resolutions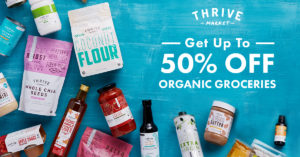 ▷ Thrive Market Reviews: Is It Worth the Price?
We compare Thrive Market head-to-head with other online grocery shopping sites such as Amazon.
The Pros and Cons with Thrive Market
Thrive Market's has a similar system to Costco or Walmart…but on a healthy scale.
The Benefits or Pro of Thrive Market:
Most products are lower or similar to Amazon
Great selection of organic and healthy foods
They strive to find difficult items that cannot be found in regular grocery stores.
They do have Free shipping but must have an order over $49 (most people do)
Thrive Market has also created their own brand.
They donates a membership to a low-income family every-time Thrive received a paid membership.
They practice reduce carbon footprint when shipping (use a few boxes as possible).
Thrive Market Cons:
There's a membership fee most organization are doing this Costco was just head of the game.
Shipping isn't free under $49
Shipping can be slow – But their infrastructure is improving every day.
Selection smaller than other vendors (even though they have over 4000 items, but expanding very quickly)
As you can see above, there are positive and negative to this company. Shipping isn't free under 49 dollars, but I don't believe may people are bothered by this because most orders are over $50. On an average any order under $50 shipping is approximately $5.
 Thrive always has unexpected items I didn't know I needed but love to have. Customer service is wonderful and Thrive is so community oriented. I love Thrive!

Written on August 5, 2017

 Great experience ordering, with delivery and with the quality of the products! Also love the personalized, hand written "thank you" on my invoice! It's the little things 🙂

Written on August 1, 2017

 Easy to order, the site loads fast when looking for anything on the site. They have suggestions they have reviews. Wonderful food and products. And the order arrives quickly.

Written on August 4, 2017
Save Now Extra 25% off + free shipping on your first order!
Let's Discuss the Membership Fee
Thrive Market is an online grocery store of sorts and offers deep discounts on many of your favorite health foods and products. It is free to join, and once you make your first purchase you will be enrolled in their free 30 day membership.
While it costs just under 60 dollar to join the Thrive Market for a year you can sign up for free and when you place your first order you will be enrolled in a 30 day free trial which allows you to try it for 30 days. They have promotions all the time, now they are running a deal to lock in 25% discount on membership and free shipping on your first order no matter the order amount.
You will typically save 25%-30% on all the products that Thrive Market carries. This is a comparison to the retail price you pay in the grocery stores in your local area. Here is a list of item and categories they offer.
Food
Health
Babies & Kids
Home
Pets
Beauty
Bath
Body
See the hundreds and hundreds of items and well-known brands Thrive Market has to offer – CLICK HERE
The part of the Thrive Market service that will make most people do not like is this fee, but in the long run it out weighs the cost of any thing you pay in the grocery store.  It comes to less than 5 dollar a day. Just like any other membership fee as it's a little unusual to pay a fee like that for groceries (unless you use Costco or BJs.
The reason I say that is that using Amazon frequently means you'll need to buy Amazon Prime, which is another membership fee. Amazon's annual fee is 50% higher than Thrive Market.
Shopping to get high quality organic food at a reasonable price isn't easy. I so a lot of comparison shopping for any organic and healthy foods my family.  Obtaining vegetables and fresh fruits is hard enough so learning about Thrive I was thrilled.
How does it work?
Joining Thrive Market is the easiest and most affordable way to get your favorite healthy products and foods. For less than $5 a month ($59.95 annually), members can access the top best-selling health and wellness products including vitamins, supplements, foods, snacks, cleaning supplies, beauty products, personal care items and more – all at wholesale prices..
Becoming a member is as easy as 1,2,3.
1. Register for free to browse the Thrive catalog, see member savings, and receive an extra 15% off your first purchase.
2. Start your trial. With your first purchase on t Thrive, you'll start a free 30 day membership trial. See how much you save. Cancel at any time.
3. Join the community . Join Thrive for just $59.99 and save on the world's best healthy products for full year. With your membership. Thrive will donate a free membership to low-income family.
Thank you for visiting my site:  www.thrivemarketreviews.com